 MEDJUGORJE RELATED ITEMS
Book: Our Lady of Medjugorje Messages to the World


1st March, 1984 to the present day

To date, close to 40 million pilgrims have visited Medjugorje to listen and respond to the messages of Our Lady which have led to innumerable conversions world-wide. This newly published book will be an inspiration and great prayer companion for many people who live and follow the messages of Medjugorje.

Contains over 26 years of Our Lady's weekly and monthly messages from Medjugorje given to the world.
This new edition (which features a laminated cover) is the most up-to-date book on the messages. It contains 264, easy-to-read A5-size pages of Our Lady's messages. The messages begin with the weekly messages Our Lady started giving on 1st March, 1984 and the monthly messages from the 25th January, 1987 to the present day.

Includes an inspirational homily by Archbishop Denis Hart and an interview with Mirjana in April 2007, one of the six visionaries from Medjugorje. Fr Andrew Grace, a young priest from NSW, tells his extraordinary conversion story, the events in his life and his experiences in Medjugorje which inspired him to follow the call to the religious life.

Now also contains the most complete list of messages from Our Lady to visionary Mirjana Soldo.

Available from Divine Mercy Publications on the Links page.



DVD: The Medjugorje Peace Conference


Melbourne - 9th December, 2007

This very special event was recorded and is now available on a double-DVD for your future reference and to pass on to your friends and family who couldn't make it to the day. The talks given were so inspirational and moving.

The DVD includes the talks by Nancy and Patrick Latta, Fr. Tim Deeter, Fr. Andrew Grace and Archbishop Hart's homily. 2-disc set. 167 minutes total.

Available from Divine Mercy Publications on the Links page.
Bosnia-Hercegovina Childrens' Fund

The Australian Division of the Bosnia-Hercegovina Children's Fund (BHCF) was established in 1993 by a small group of Victorians who had visited and met with some of the children and families being housed in refugee camps throughout Bosnia. The group returned to Australia and began the process of establishing a fund through which much needed monetary aid would be channeled. They formed a small committee to administer a child sponsorship programme under the auspice of 'International God-parenthood for Herceg-Bosnian Children' located in Siroki Brijeg, Bosnia Hercegovina. The President Fr Jozo was the parish priest of Medjugorje when the apparitions of the Blessed Virgin Mary began on 24th June 1981.

In September 1991 Fr. Jozo Zovko was made Guardian and head of the Franciscan Monastery of Siroke Brijeg. He established the International God parenthood Association in December 1992.

It has been more than 14 years since the Balkan's war ended. However, the needs of the children and families to survive on a daily basis remain great. Many thousands of innocent children and families of Bosnia-Hercegovina to this day continue to suffer both mentally and physically as a result the horrific war and having lost one or both parents. After serving in the war many of the fathers continue to suffer dreadfully the effects of Post Traumatic Stress Syndrome. In some cases this has led to men committing suicide leaving their children and families with little or no regular financial aid.

All God-parent payments are forwarded in total by telegraphic transfer to the Associations bank account in Siroke Brijeg. A bank account is set up for each child and only the parent or guardian may access this account. The Secretary of the God-Parenthood association in Siroki Brijeg monitors these transactions closely at all times.

The BHCF committee members are all volunteers who give freely of their time and resources. Our small running costs are raised from membership subscriptions and donations.

You are invited to become god-parents of a Bosnia - Hecegovina child, taking upon yourselves the religious, Christian, moral, spiritual and material obligations that come with this role. In the Croatian tradition the role of God-parent is extremely important. It encompasses love and friendship, together with spiritual and financial support.

If you would like to help the children and families, please contact Denise Fowler by email fowljd@optusnet.com.auThis e-mail address is being protected from spambots. You need JavaScript enabled to view it or phone (03) 5282 7818.

Through the intercession of the Blessed Virgin Mary, may the peace and blessing of Our Lord Jesus be with you always.

Denise P Fowler (Treasurer)


Note: Divine Mercy Publications has a range of other Medjugorje-related items.
See their website for more details.
Medjugorje and the Catholic Church


There is much debate as to the apparent occurances in Medjugorje since 1981 which has had a tremendous world-wide influence. As such, the Church has been careful to investigate these occurances over the years. A good amount of information relating to this is given on the official Medjugorje website in Bosnia-Herzegovina and can be found <here>.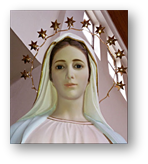 Important Message from Our Lady given to Mirjana Dragicevic-Soldo on 2 March 2011

"Dear children; My motherly heart suffers tremendously as I look at my children who persistently put what is human before what is of God; at my children who, despite everything that surrounds them and despite all the signs that are sent to them, think that they can walk without my Son. They cannot! They are walking to eternal perdition. That is why I am gathering you, who are ready to open your heart to me, you who are ready to be apostles of my love, to help me; so that by living God's love you may be an example to those who do not know it. May fasting and prayer give you strength in that and I bless you with motherly blessing in the name of the Father and of the Son and of the Holy Spirit. Thank you." Our Lady was very sad.
Important Message given to Mirjana Dragicevic-Soldo
from Our Lady Queen of Peace of Medjugorje
Message of 2 June 2011

"Dear children! As I call you to prayer for those who have not come to know the love of God, if you were to look into your hearts you would comprehend that I am speaking about many of you. With an open heart, sincerely ask yourselves if you want the living God or do you want to eliminate Him and live as you want. Look around you, my children, and see where the world is going, the world that thinks of doing everything without the Father, and which wanders in the darkness of temptation. I am offering to you the light of the Truth and the Holy Spirit. According to God's plan I am with you to help you to have my Son, His Cross and Resurrection, triumph in your hearts. As a mother, I desire and pray for your unity with my Son and His works. I am with you; you decide. Thank you."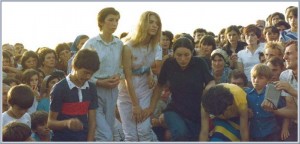 One of the earliest known photos of all the six Medjugorje visionaries together, taken on June 29th 1981 on top of Apparition Hill.
Left to right: Ivan Dragicevic (red stripe on jersey), Marija Pavlovic, Mirjana Dragicevic, Ivanka Ivankovic, Vicka Ivankovic and Jakov Colo.



Inc. Pilgrimages Australia & NZ
SPIRITUAL JOURNEYS, NOT TOURS